Slideshow of the award winning images from the 2023 Exhibition‍
Click HERE for a link to a PDF document giving full details of each image (Title, Author & Distinctions, Society and Award received)
The East Anglian Federation (EAF) of Photographic Societies was founded in 1910 and has thus been in existence for over 100 years. The EAF is a constituent founder Member of the Photographic Alliance of Great Britain (PAGB), which is the parent organisation for camera clubs and photographic societies throughout the UK. Having 105 member clubs and societies with about 4000 individual members, the EAF is one of the largest federations in the PAGB covering the area of Bedfordshire, Cambridgeshire, Essex, Norfolk, Suffolk and that part of Hertfordshire which lies to the east of the M1 motorway. Following the closure of the Central Federation in 1989 a number of North and East London clubs were welcomed into the East Anglian Federation.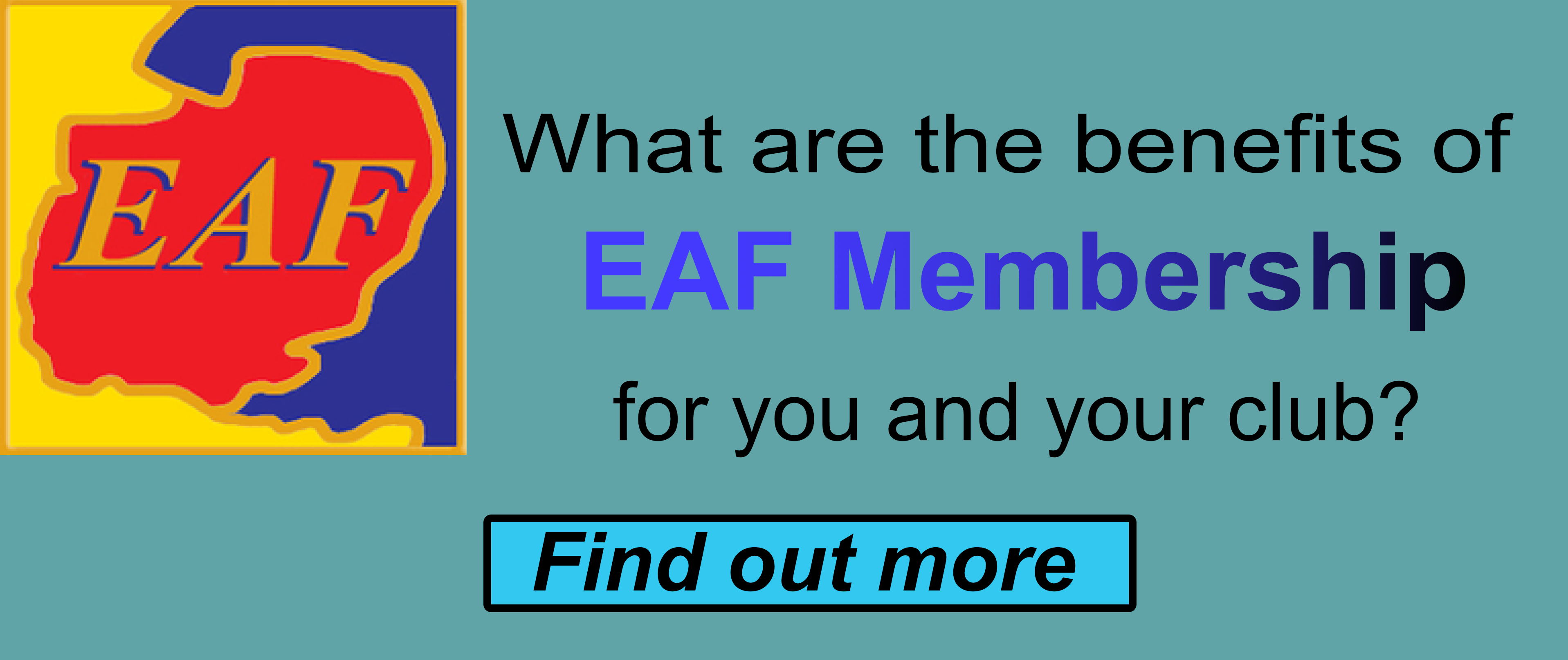 Sponsored Links
If you are looking for maps, booking forms or application forms then please visit our
‍Downloads Page
Latest News
EAF Bulletin - December 2023




We now have two versions of the Bulletin.
‍
One version most suitable for viewing on Computer Monitors and one version most suitable for viewing on Mobile Devices.
‍
Click on the cover image to visit the Bulletin Page where you can view/download the version of your choice.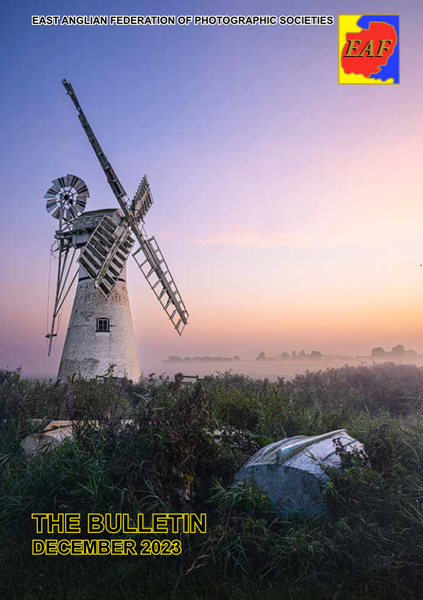 Photographic Alliance of Great Britain Awards for Photographic Merit Weekend
Saturday 25th – Sunday 26th November 2023.
I have just returned from the autumn adjudication of the APMs. Usually, the event is held in one location but, due to technical reasons, the event was split between Nottingham and Smethwick.

Because of this issue the PAGB team decided to assess all five print levels on the Saturday which made it a long day. This included the new "B" and "E" levels. It is hoped that these will continue in the future. Several applicants were present on the Saturday.

Then, after clearing the frost from the cars on Sunday morning, everyone headed down to the Smethwick PS club house where we were made very welcome on arrival. Sunday was a much shorter day as there were only 45 applications in PDI, split between "C" and "D". The assessments were finished by lunchtime.

For this adjudication our Federation had 16 applications, but sadly only 6 were successful. So, we would like to offer our congratulations to the following members.

‍Credit Prints: Shaun Hykel CPAGB from Colchester PS, Alec MacAndrew CPAGB from St. Neots & DCC and David Pelling LRPS, CPAGB from Wymondham PS.

‍Credit PDI: Philippa Cole LRPS, CPAGB from St. Neots & DCC.

‍Distinction Prints: Nicholas Alston ARPS, DPAGB, BPE 2* from the Beyond Group.

‍Master Prints: Colin Bradshaw MPAGB, EFIAP, EPSA, BPE 5* from the Photographic Imaging Co-operative.

Commiserations to those of you who were unsuccessful; hopefully, you will try again.

The next adjudication will be over the weekend of Saturday 27thand Sunday 28th April 2024 and will be held in Basingstoke.  More details will follow soon.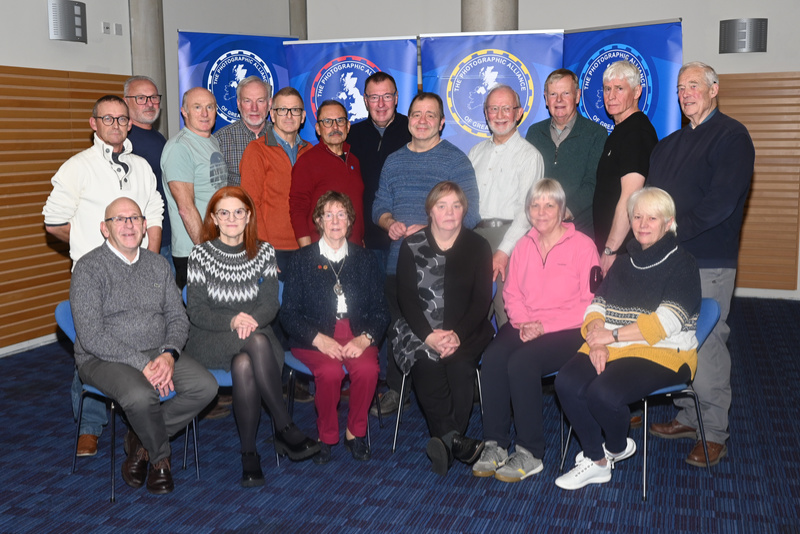 Shaun Hykel CPAGB from Colchester PS (centre right, back row),David Pelling LRPS, CPAGB from Wymondham PS (back row, right).  On centre left PAGB President and Secretary to the Awards Daphne Hanson DPAGB, HonPAGB.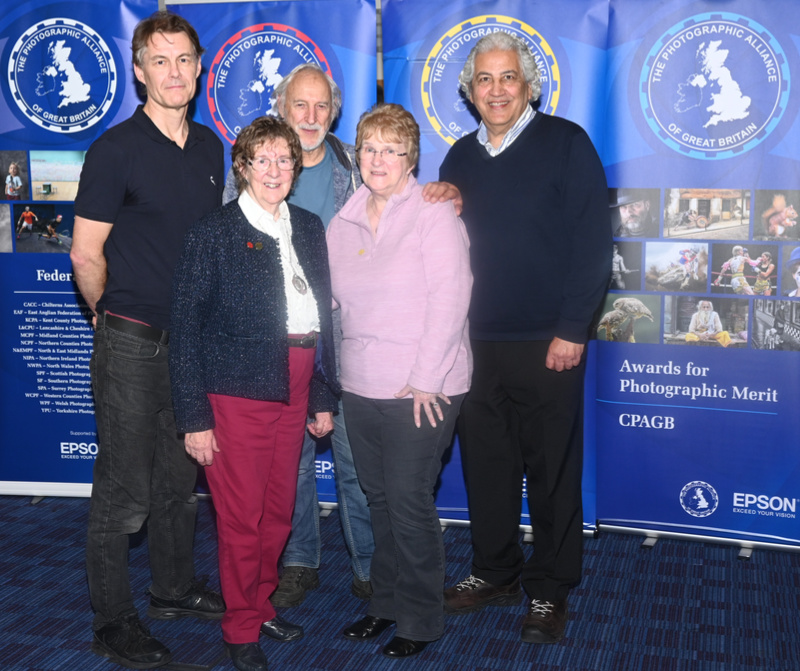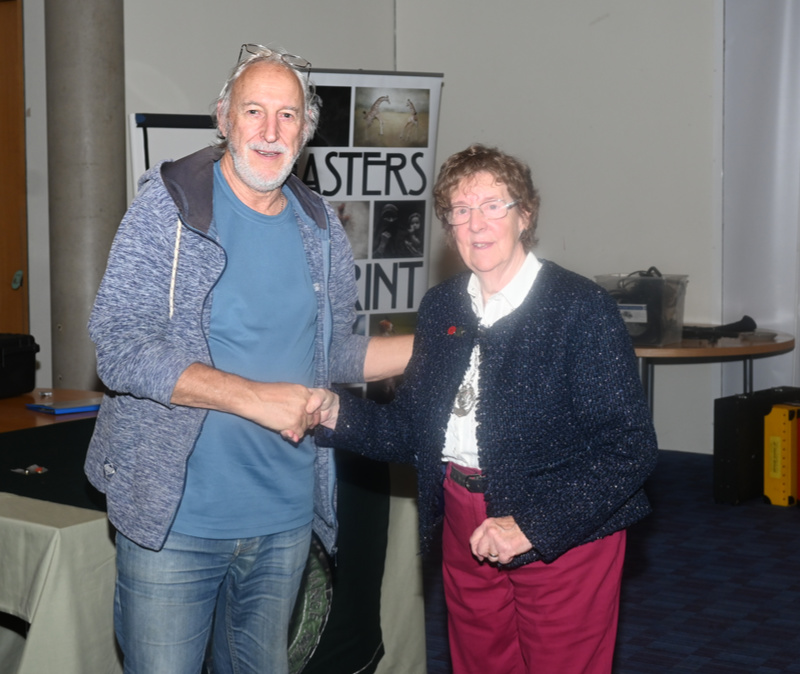 Colin Bradshaw (centre rear) along with the other three successful Master recipients, along with Daphne Hanson DPAGB, HonPAGB, PAGB President and Colin Bradshaw MPAGB, EFIAP, EPSA, BPE5* from the Photographic Imaging Co-operative, receiving his badge from Daphne.
Pictures were kindly supplied by Dave Severn from Nottingham.
Vic Hainsworth, ARPS, DPAGB, APAGB.
Federation Awards Secretary.
EAF Championships
Invitation to all EAF Clubs for the 2024 Championships
Click HERE for details of the 2024 Championships.
Rules, Entry Forms, Titles List Forms, Ticket Application Forms & an Advert Notice are available on the Downloadable Documents Page.
Note: If you downloaded any of the documents before 18th November please do not use them as there were some errors which have now been corrected.
2023 PAGB Inter-Club Print Championship
The event was held at Westholme School, Blackburn Lancashire on Saturday 21st October.
‍
The EAF were represented by four clubs: Beyond Group, Colchester PS, Melbourn DPS & PICO.
‍
Congratulations to all four clubs: Beyond Group & Colchester PS finished in equal fourth place, PICO finished in 8th place and Melbourn DPS were joint winners of the Plate competition. This means that all four clubs have automatic entry into next year's competition.
‍
In addition three trophies were awarded to EAF individuals or clubs.
‍
The best monochrome print trophy was awarded to: " Muslim Girls" by Chrissie Westgate of Beyond Group
‍
Erica Oram awarded her judges choice award to "Village Girl Gugerat" by Colin Westgate of Colchester PS
‍
Colchester PS were awarded with the "Rookie" award, as the highest placed club by a club that hasn't prevoiusly qualified for the championship.

A full scoresheet is available on the PAGB website.
‍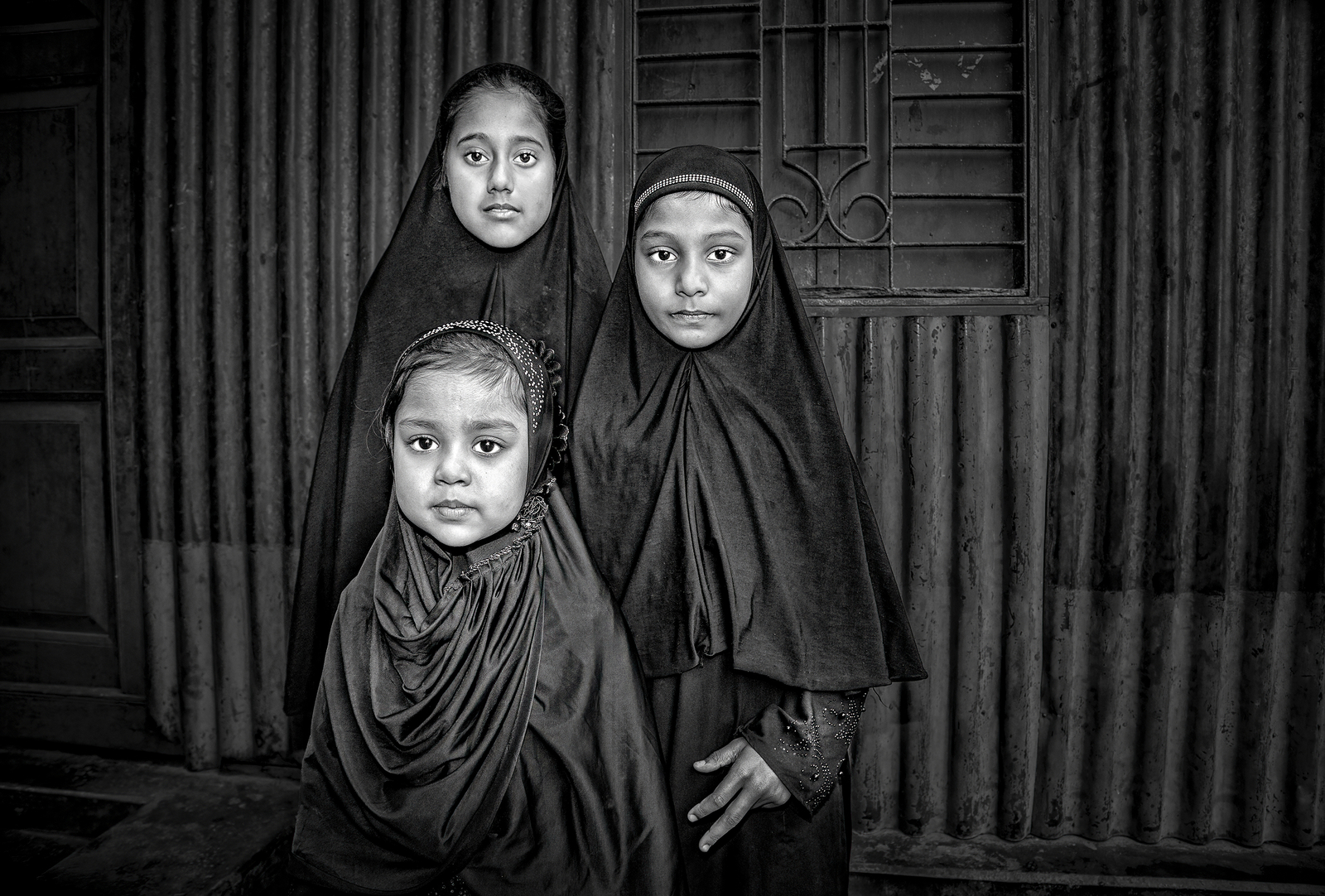 "Muslim Girls"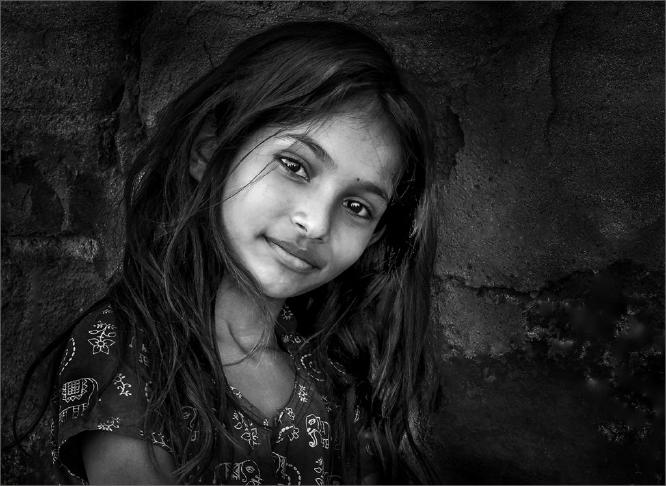 "Village Girl Gugerat"
The East Anglian Federation Audio-Visual Trophy
As the Chairman of The Essex AV Group, I have held the reins of the previously named East Anglian AV Competition for the past 30 years, and with the Group unable to continue, I find myself in a similar position heading the newly titled East Anglian Federation AV Trophy.

Eighteen months into the organisation of the event, with a brilliant committee and a band of helpers, we were prepared for the big day. Then, the bombshell; with two days before we were to set off to Foxton, one of our judges, Keith Brown, became unwell and was unable to travel from Sheffield.

Vic Hainsworth came to the rescue; he was prepared to judge alongside our remaining judge, Richard Brown, and saved the day. Vic has been involved with AV for over forty years and I think he relished the opportunity to judge the first EAF AV Competition, albeit unplanned.

As EAF President, Vic opened the day before taking his place with Richard at the judges' table. Now we were up and running after the panic of the previous day.The event was a great success, and we are now looking forward to next year.

Image 1 (Left/Top): Keith Leedham (Trophy Winner), Richard Brown & Vic Hainsworth.
Image 2 (Right/Bottom): Keith, Dick Williams, Vic & Richard.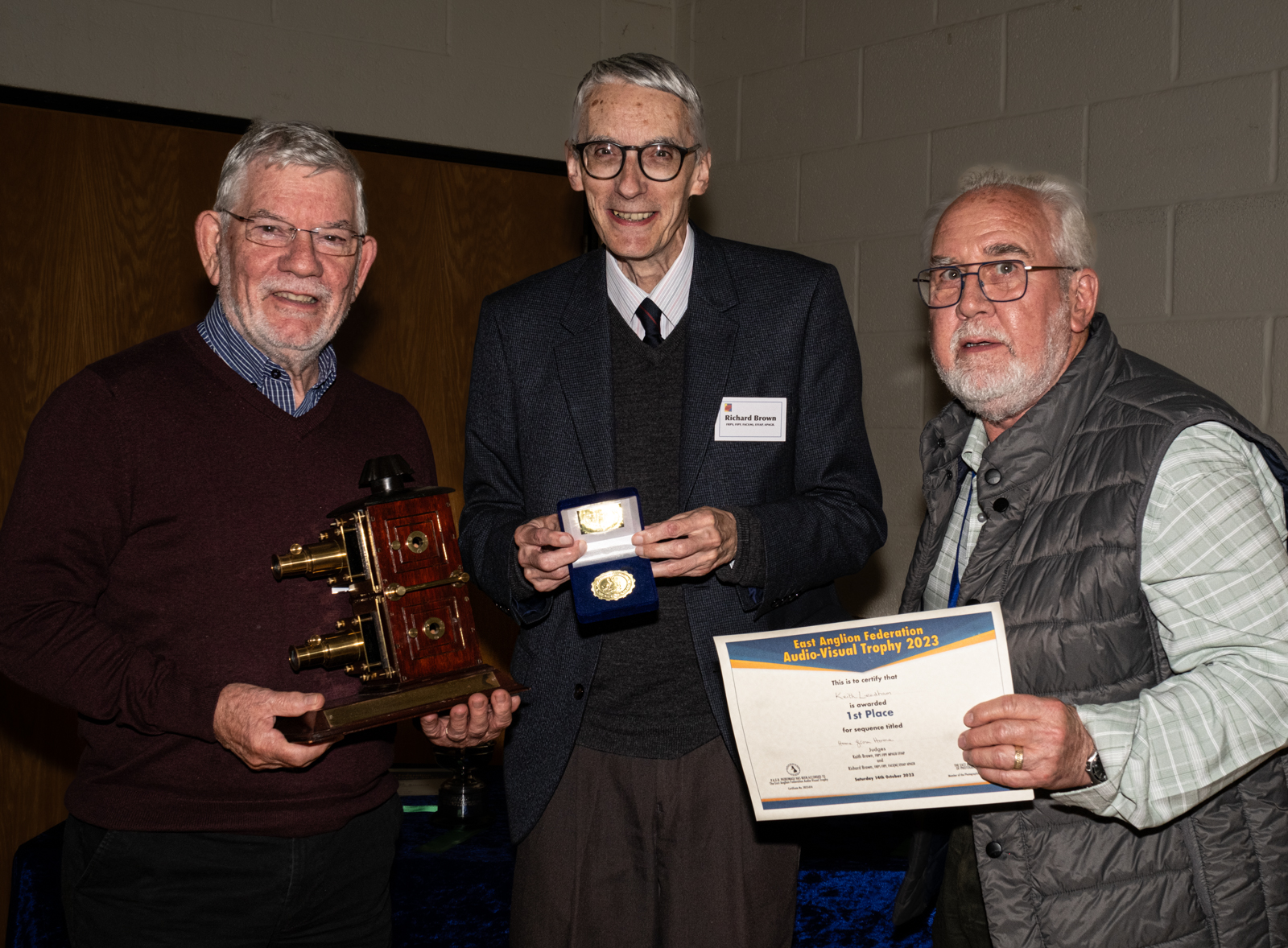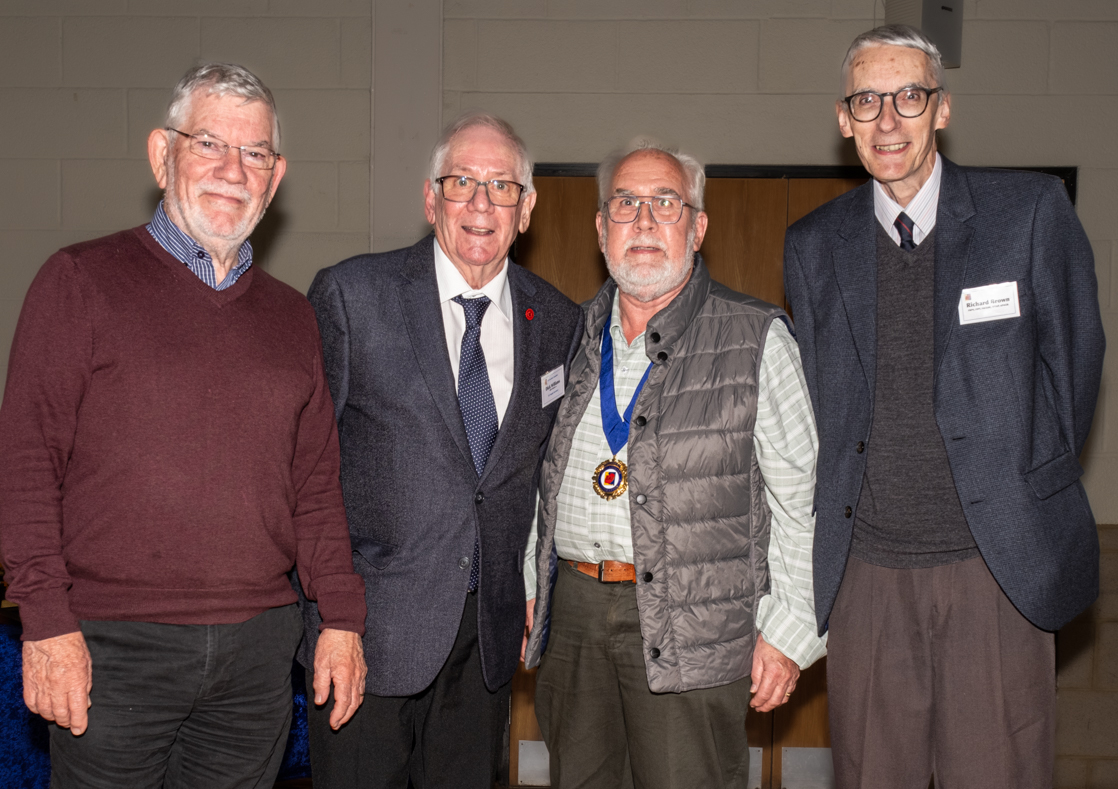 Dick Williams ARPS DPAGB-AV
EAF AV Trophy Secretary
2023 PAGB Inter-Federation Competition Results
The EAF enters the PAGB Inter-Federation Competition and Exhibition every year, with images selected from the high scoring and award winning entries to our Exhibition held immediately beforehand.

This year the competition was again for Prints only and comprised three sections – Nature, Open Colour and Open Mono.

The EAF came 4th in the Colour Print section, 5th in the Mono Print section and 2nd (Equal with MCPF and WCPF) in the Nature Print section.

A good showing for the EAF in a close fought competition against 13 other Federations. Overall marks were very close at the top with just 4 points between 2nd and 1st places in the Nature section, 7 points between us and the 1st place in the Mono section and 14 points in the Colour section.

From our entry we had 6 images accepted for exhibition from the Colour section, 6 from the Mono section and 6 from the Nature section. A total of 8 images were given awards – three certificates, three PAGB Ribbons and two Judge's Choice awards.

Very well done to all those who had images selected for the competition and especially well done to all of those who had acceptances and awards from the judging!

Use the links below to view the full details of the EAF entries in each section.
Colour Print Entries
Monochrome Print Entries
Nature Print Entries
Jim Bennett
EAF Exhibition Secretary
Colour Print Section: PAGB Ribbon: "Swamped" by Iain Houston of Welwyn Garden City PC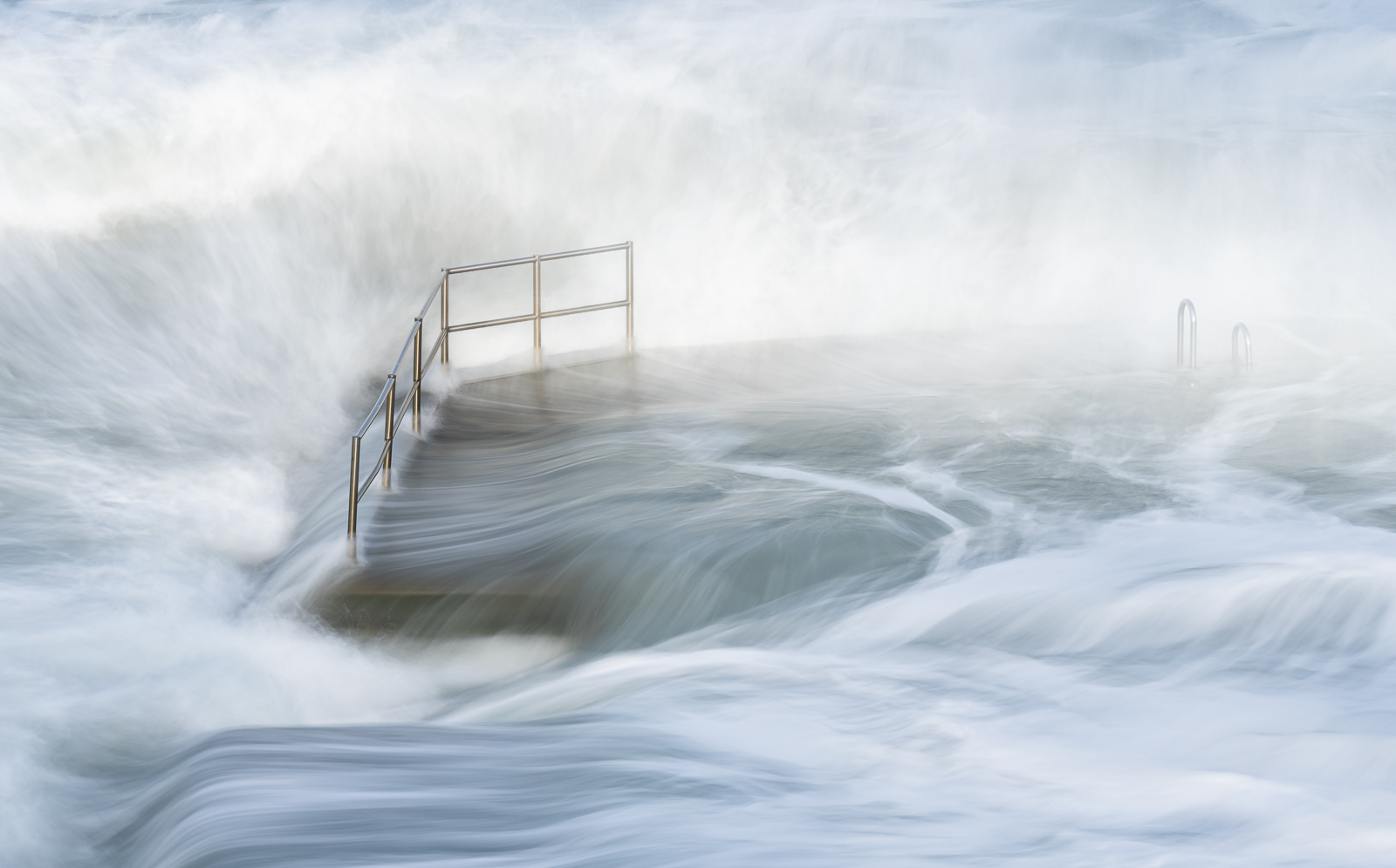 Monochrome Print Section: (Left to Right or Top to Bottom)
Judge's Choice: "Misty Church" by Chris Lafbury of Chingford PS, PAGB Ribbon: "Julio Napolise and Friend" by Roy Essery of Colchester PS, PAGB Ribbon: "Lorraine Ugen Muller Athletics" by Colin Bradshaw of PICO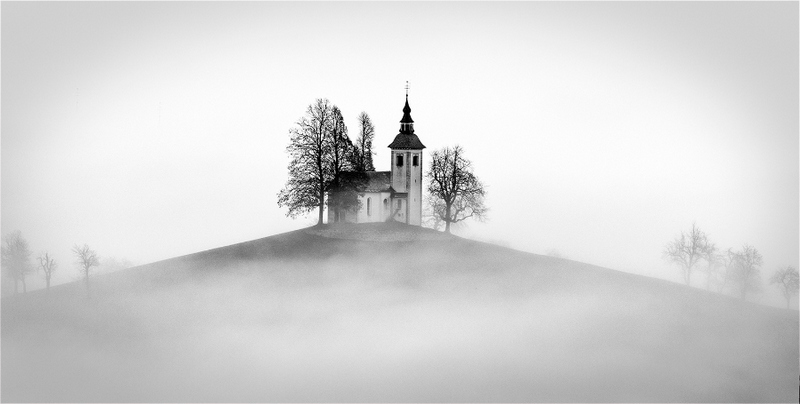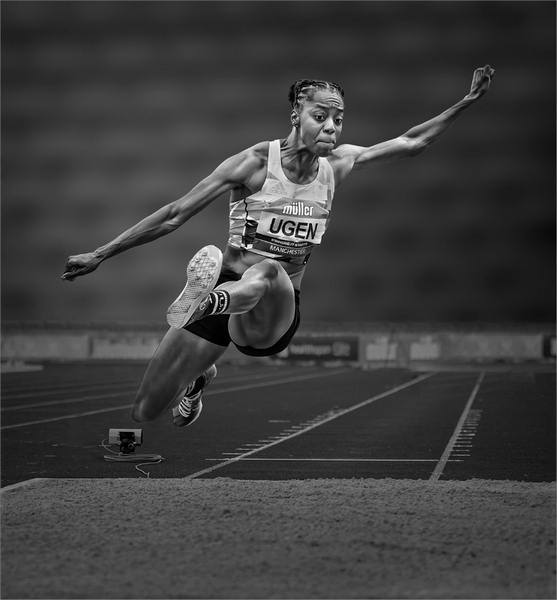 Nature Print Section: Judge's Choice: "Cuckoo and Sedge Warbler Skirmish" by Colin Bradshaw of PICO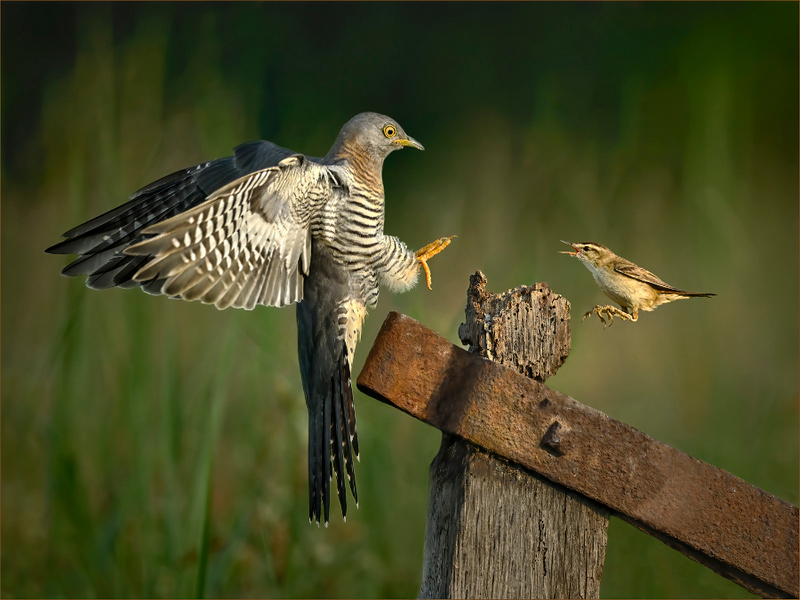 PAGB Awards for Photographic Merit
The PAGB have introduced two new levels, on a trial basis, in the Awards for Photographic Merit system.
The BPAGB award will be the basic level just below the CPAGB level.
The EPAGB award will be between the DPAGB level and the MPAGB level.
At the moment this is a trial for print entries only and not for PDI's.
Full details from the PAGB HERE.
Application Forms are available on the Downloadable Documents Page.
2023 EAF Exhibition
There is a PDF version of the Exhibition Catalogue on the Downloads Page or click on the cover image below.
2023 EAF Annual Exhibition
The Exibition took place between Saturday 29th April to Thursday 11th May at Wingfield Barns, Church Road, Wingfield, Eye, Suffolk IP21 5RA

The Judges were: Chris Palmer FRPS DPAGB APAGB EFIAP, Sue Wilson DPAGB BPE3*, Rosemary Wilman HonFRPS AFIAP ABPE APAGB
Images below: From left to right or top to bottom:
Best Colour Print: "Danger at the Waterhole" by Annie Nash
Best Monochrome Print: "Coal Yard Kids, Bangladesh" by Chrissie Westgate FRPS
Best PDI: "Boxing and Jumping" by Colin Bradshaw DPAGB EFIAP BPE5* EPSA

EAF Inter-Club Print Championship Report 2023
On Sunday 12th March, 18 clubs took part in the Print Championship at Fulbourn near Cambridge. Each club showed 15 images in the competition.This year we had clear first, second and third with a tie for fourth place between Melbourn & DPC and Cambridge CC which was resolved by considering their highest and lowest scores.

The final results were:
‍Winning club ( EAF Trophy ) – Photographic Imaging Co-operative (PICO)
Runner-up club (Eric Saul Memorial Trophy ) – Colchester Photographic Society
Third placed club ( Certificate ) – Beyond Group
Fourth placedClub ( Certificate ) - Melbourn & District Photographic Club
‍New for this year is an award for the best new entrant club:
‍Best "Rookie Club" - North Norfolk Photographic Society

‍PICO and Beyond Group have an automatic invitation to represent the EAF at the PAGB Inter-Club Print Championship in October, so in addition, Colchester and Melbourn have been invited. It is a good event, and our representatives would welcome some support. Tickets need to be bought in advance from the PAGB website. My thanks to everyone who helped to make the day possible – the clubs, the executive, their spouses and friends, and of course the three judges.
The judges selected the following image as their choice for Best Print:
‍Best Print in the Championship: "Swamped" by Iain Houston of Welwyn Garden City Photographic Club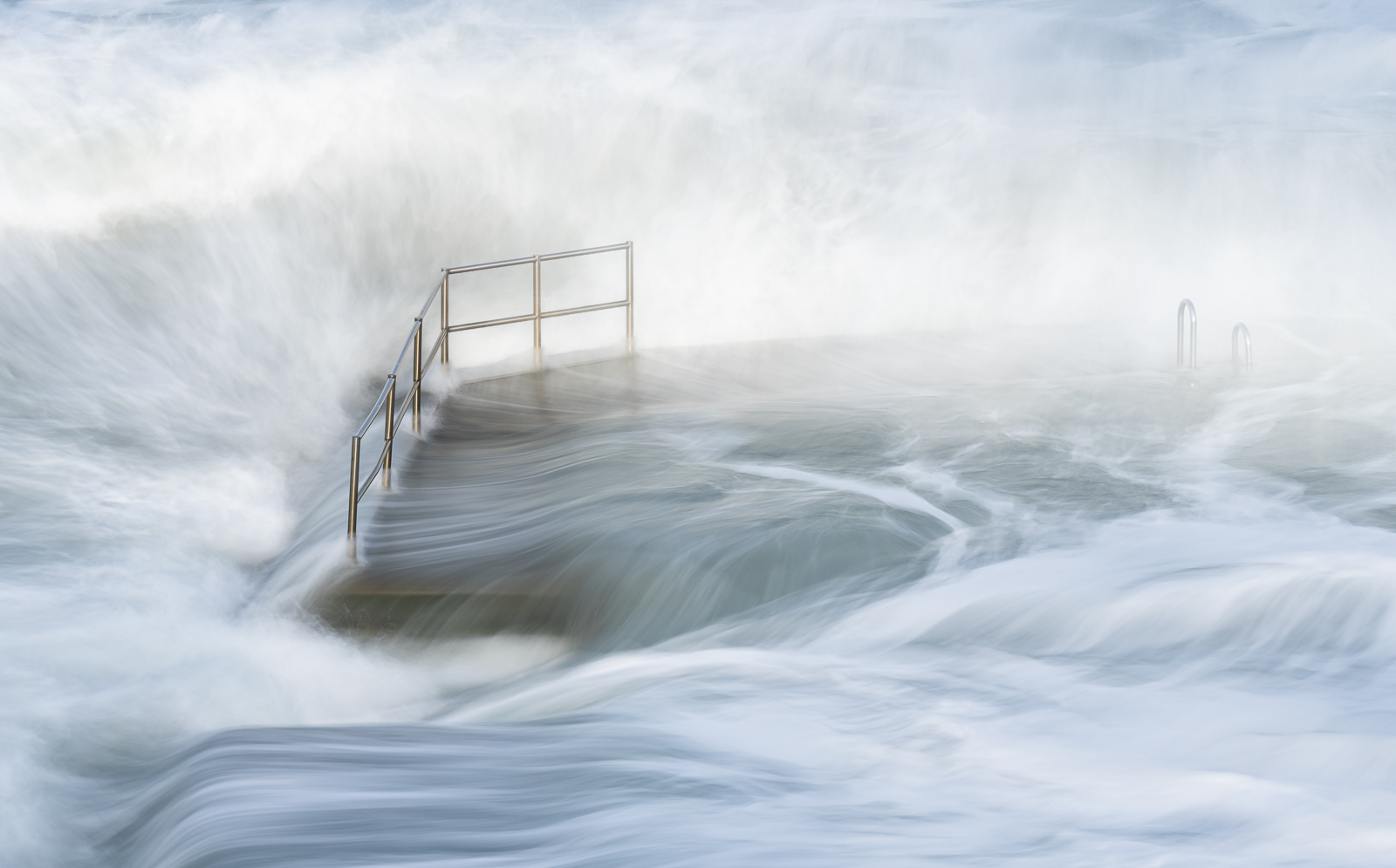 The personal choices for Selector's Awards were as follows:
‍Personal selection of Adrian Lines ARPS MPAGB AFIAP FBPE:"Togetherness European Bee-eaters" by Derek Howes of Colchester Photographic Society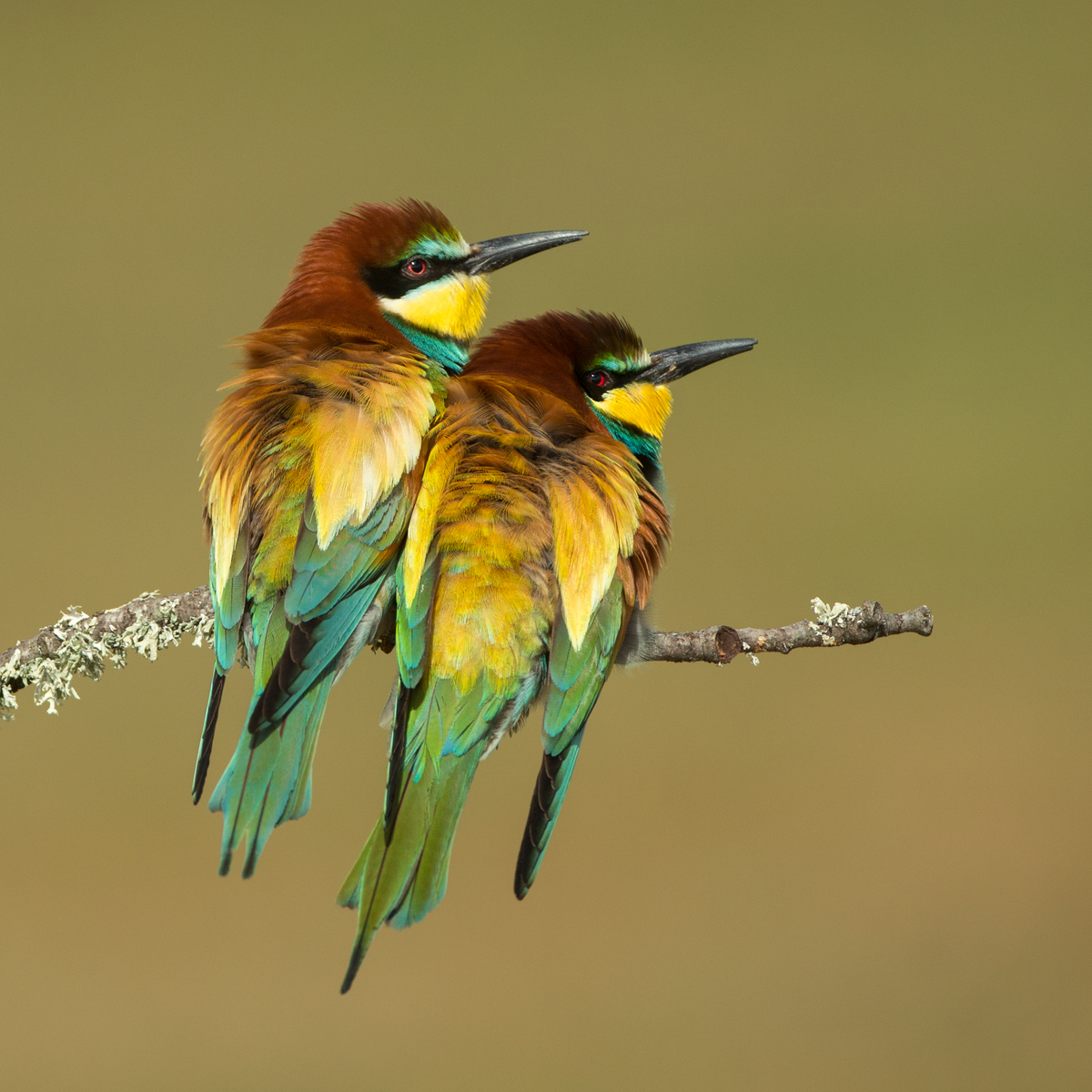 Personal selection of Jane Lines LRPS MPAGB BPE5*: "Muslim Girls" by Chrissie Westgate of Beyond Group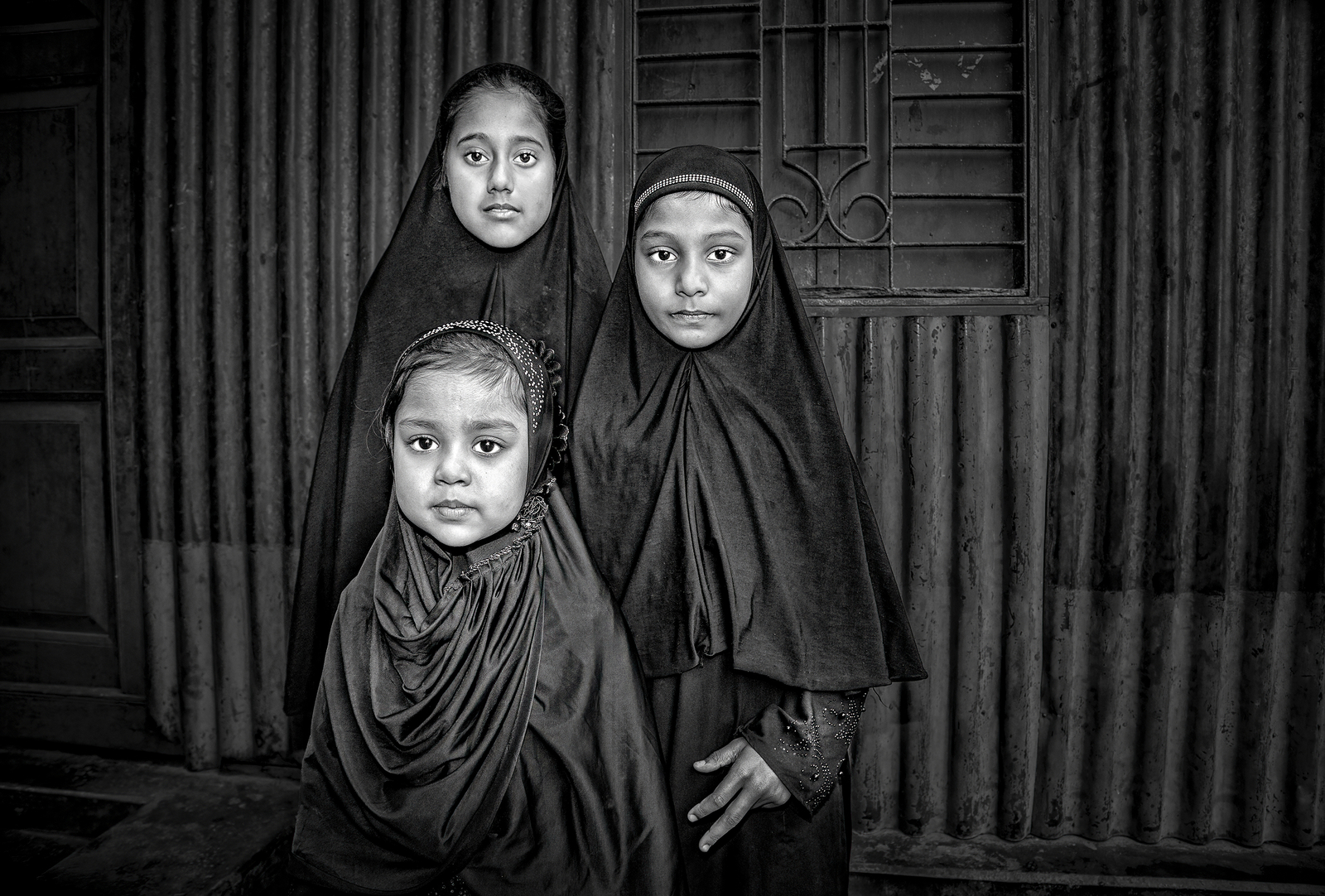 Personal selection of Dave Tucker DPAGB EFIAP/g BPE3*: "ConcreteCurves" by Dave Balcombe of Norwich & District Photographic Society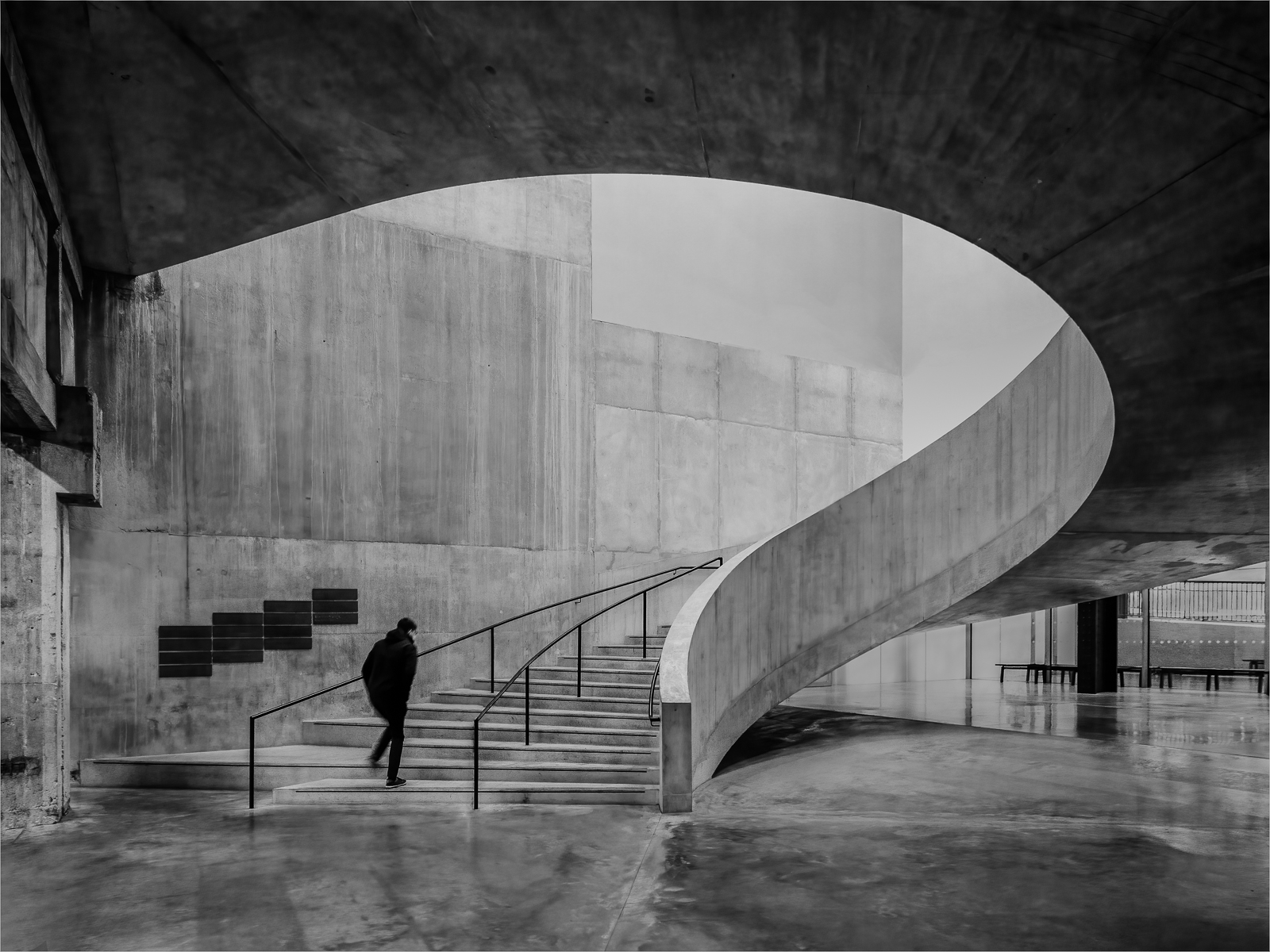 Then,again new for this year is the Backroom Choice, selected by the print handlers who get the closest view of all the prints:
‍Backroom Choice: "Five Trees, Iceland" by Colin Westgate of Colchester PS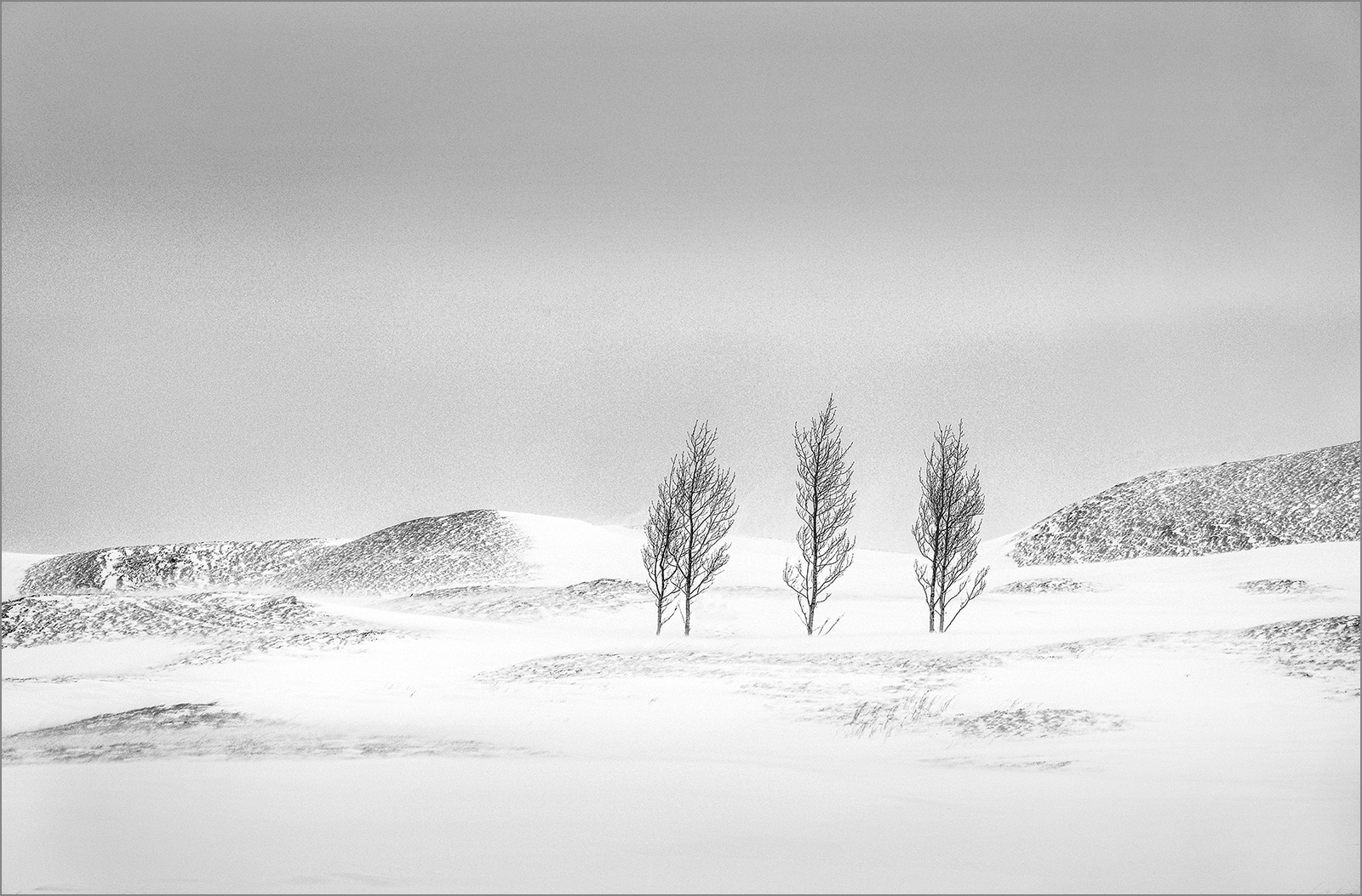 It's been a difficult couple of years resulting in far fewer prints being entered into the competition than usual. However, we hope that things will now improve and that next year's Championships will see many more clubs being involved
Presentation of Trophies & Certificates
Below: Left to Right or Top to Bottom
Gill Steyn of PICO receives the winners trophy from the EAF President Vic Hainsworth
Chris Aldred of Colchester Photographic Society receives the runner-up trophy (Eric Saul Cup) from Naomi Saul & Vic
Liz Akers of North Norfolk Photographic Society receives the Rookie Club certificate from Vic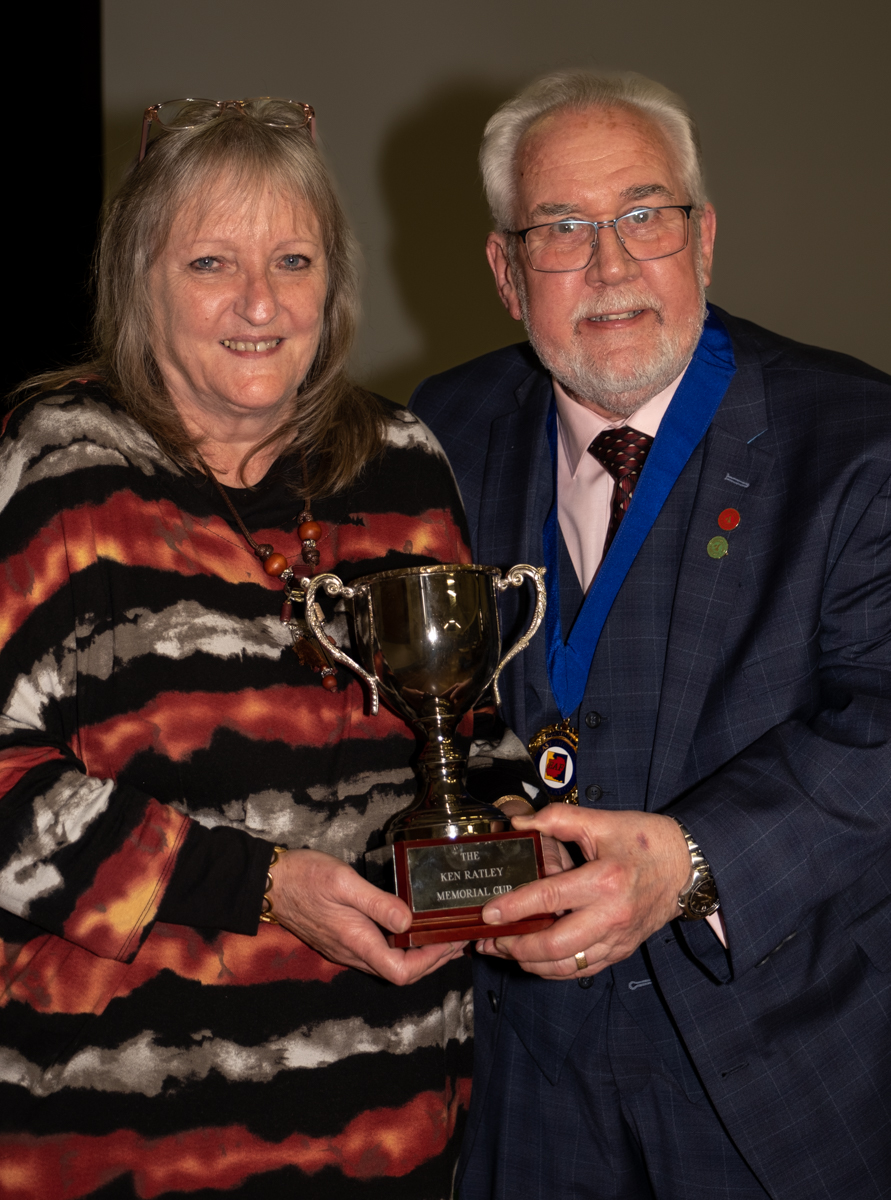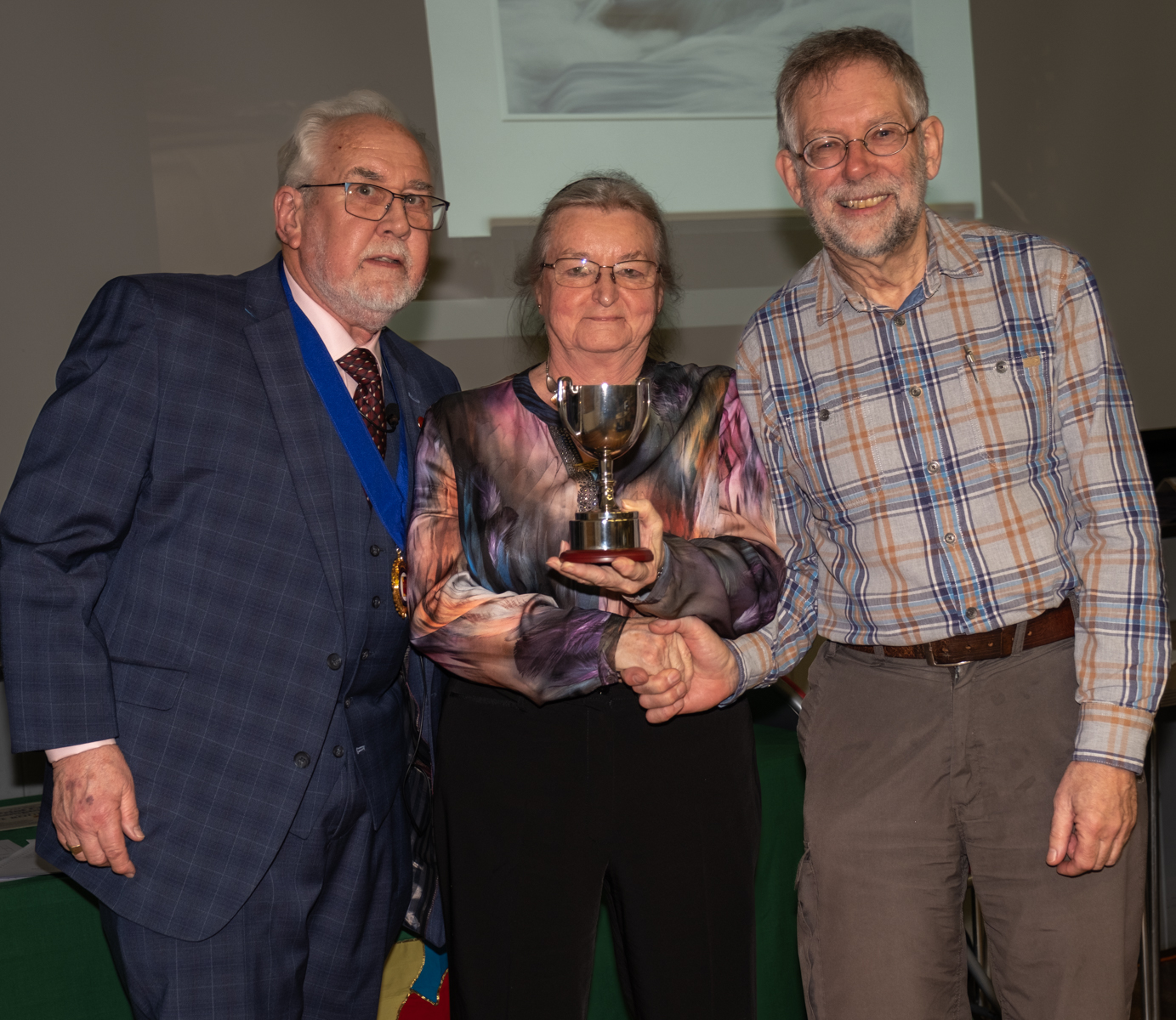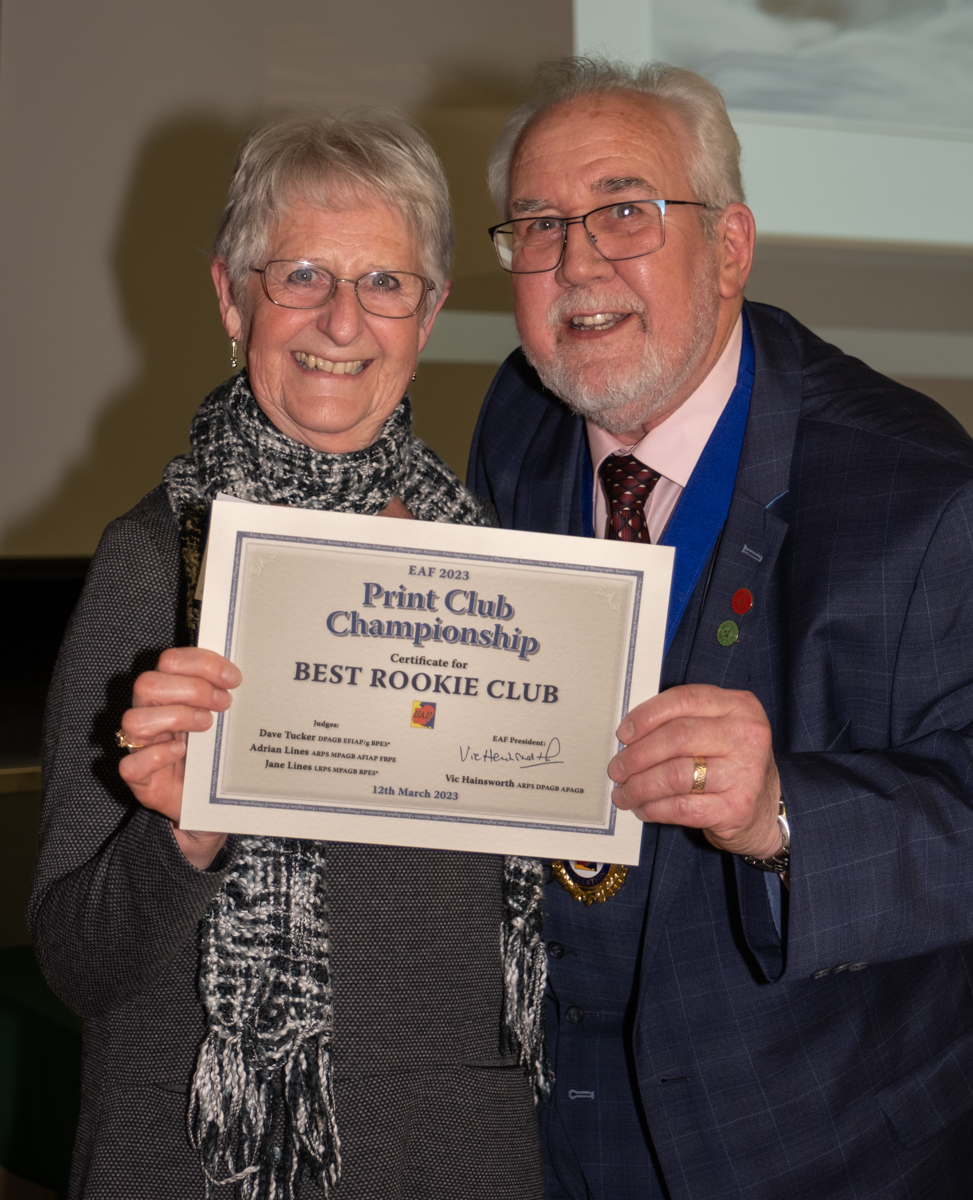 Below: Left to Right or Top to Bottom
Dave Balcombe receives his selectors choice trophy from Dave Tucker
Barbie Lindsay receives the selectors choice trophy on behalf of Chrissie Westgate from Jane Lines
Derek Howes receives his selectors choice trophy, presented by Vic on behalf of Adrian Lines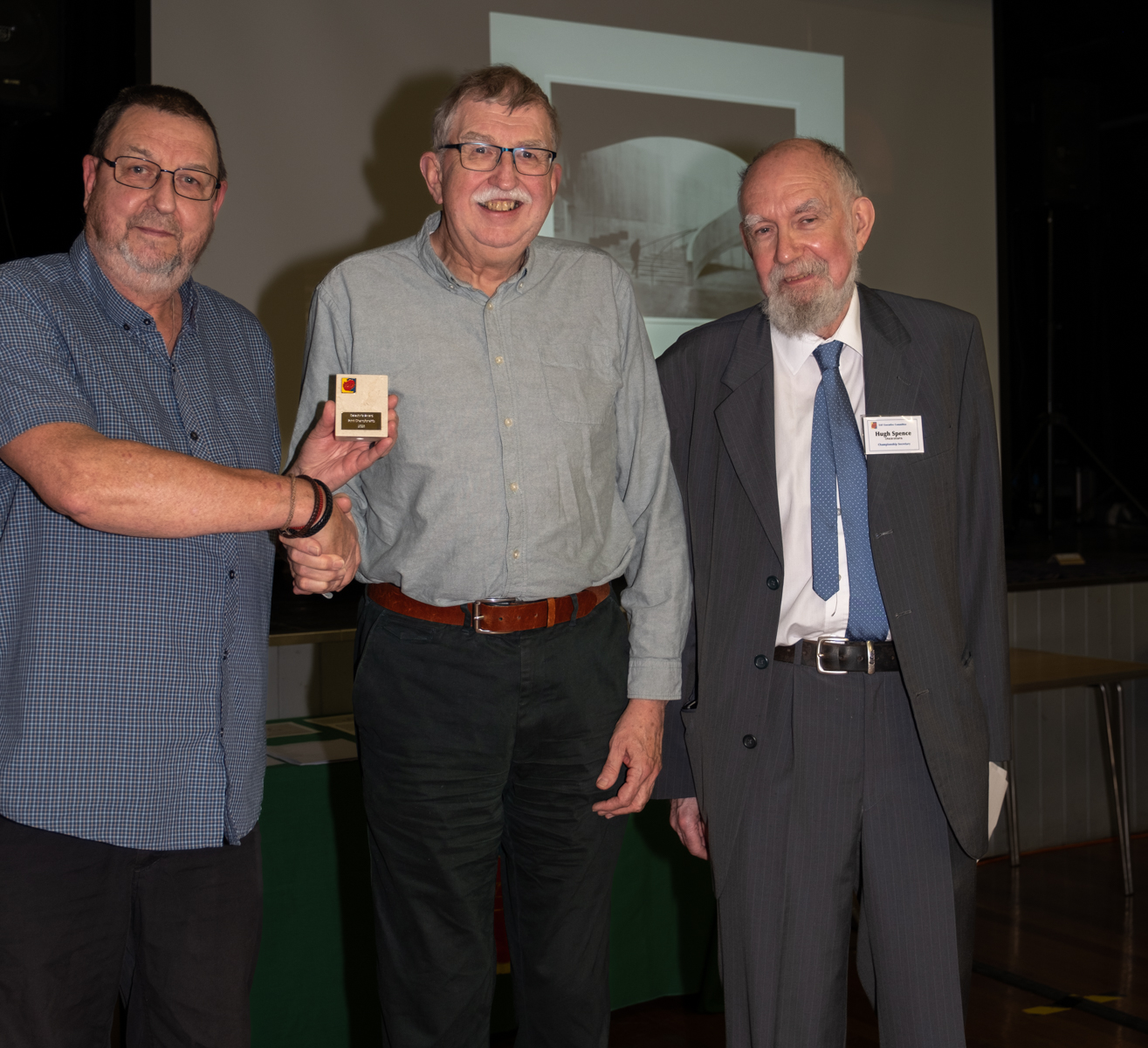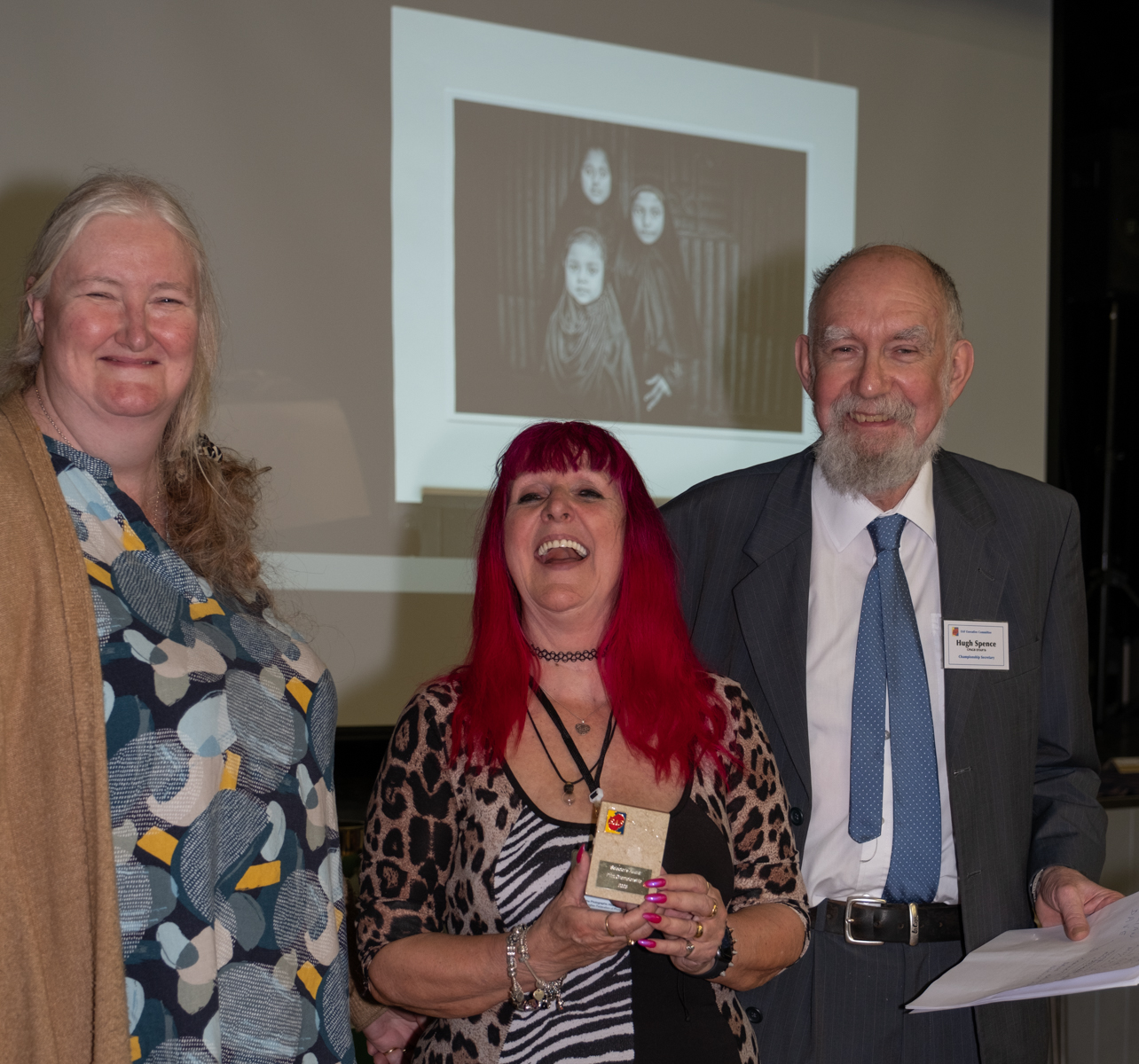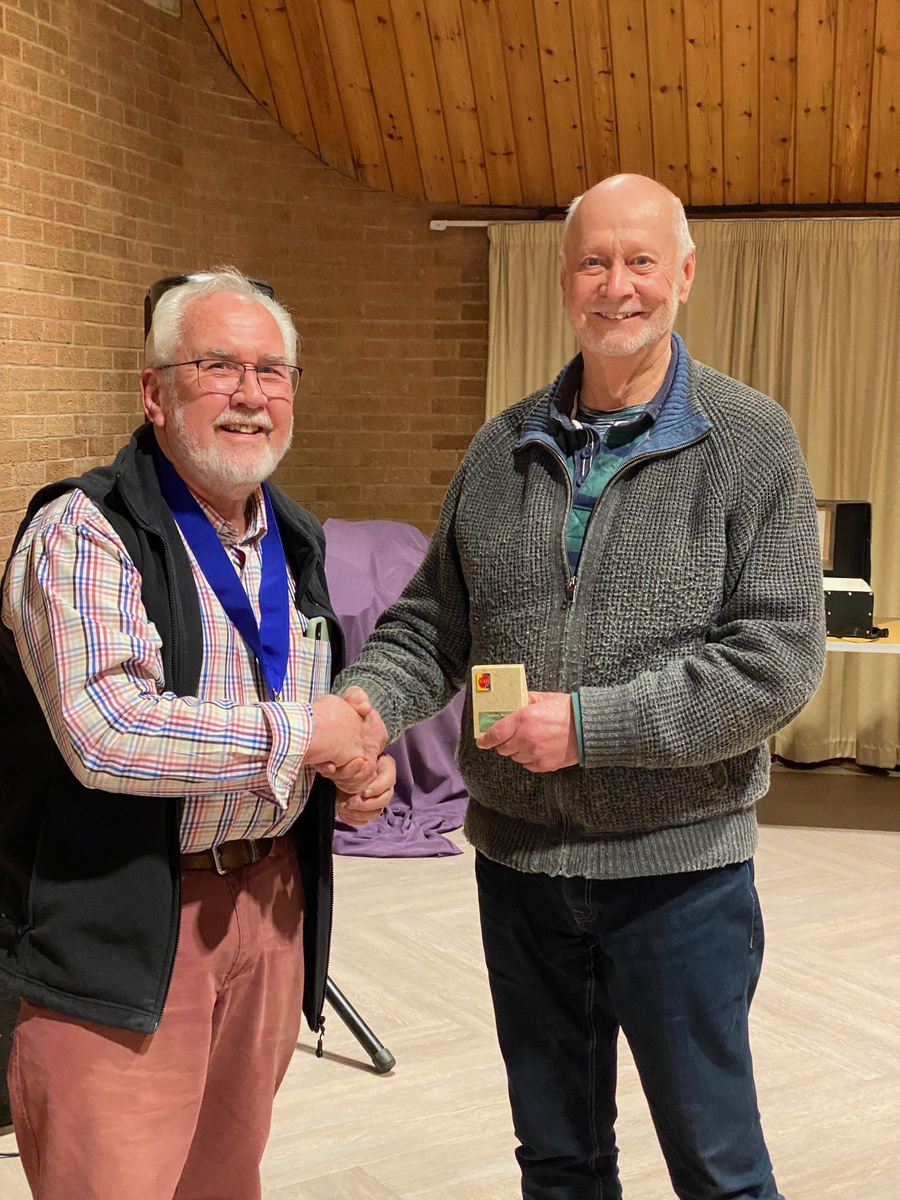 Presentations at the 2023 AGM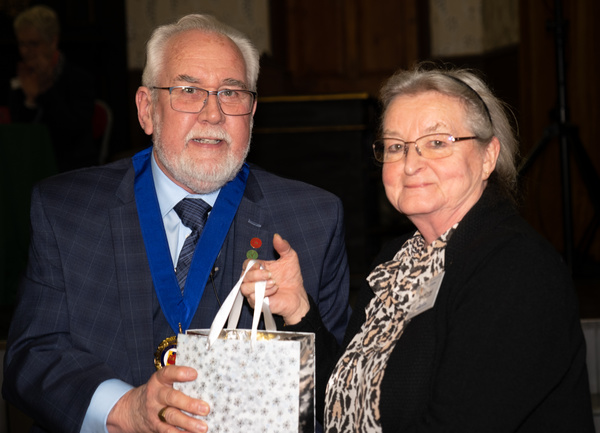 Vic Hainsworth, EAF President, presents Naomi Saul with a glass vase to mark her retirement from the Executive Committee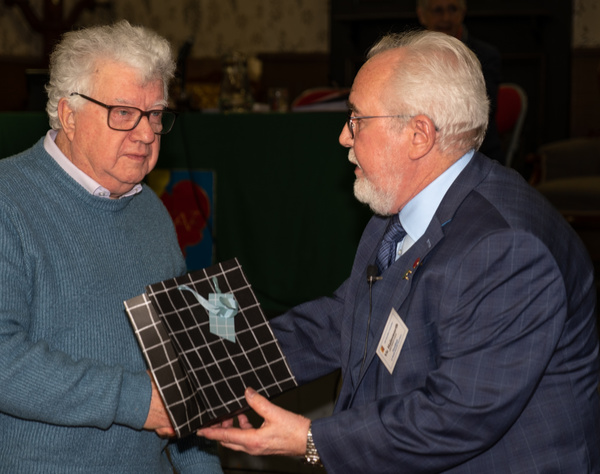 Vic presents Bob Norris with an engraved pen to mark his retirement from the Executive Committee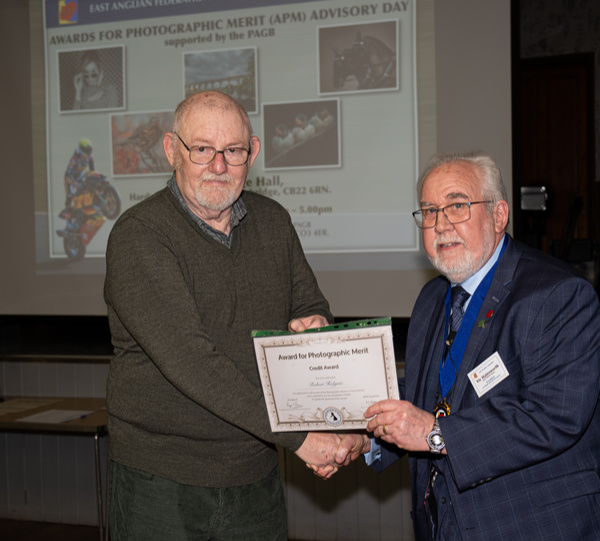 Robert Holgate CPAGB of Stevenage PS receives his APM Certificate from Vic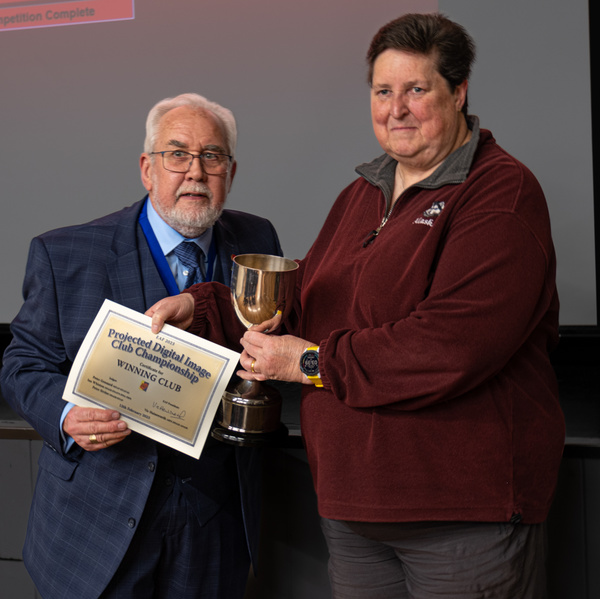 Jane Barrett from Beyond Group is presented with the EAF PDI Trophy and the Winning Club certificate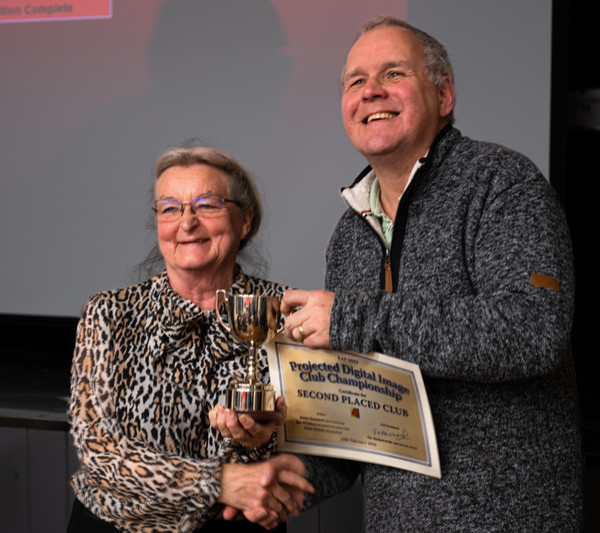 Andy Gutteridge from PICO is presented with the Eric Saul Memorial Trophy and certificate for the Second Placed club by Naomi Saul
EAF Inter-Club PDI Championship Report 2023
On Sunday 12th February, 25 clubs took part in the PDI Championship at Fulbourn near Cambridge. Each club showed 15 images in Round One, aiming for a place in Round Two. The top scoring 10 clubs progressed to Round Two, showing us a further 10 images with all 25 images counting towards the final positions.

This year we had a clear set of winners.

The final results were:
‍Winning club gaining the EAF Trophy – Beyond Group
‍
Runner up club gaining the Eric Saul Memorial Trophy – Photographic Imaging Co-operative (PICO)
‍
Third placed club receiving a certificate – Cambridge Camera Club

The EAF representatives at the PAGB Inter-Club PDI Championship to be held in Warwick in July will be PICO, who have already qualified due to reaching the final last year, plus Beyond Group and Cambridge who will now be invited. It is a good event, and our representatives would welcome some support. Tickets need to be bought in advance through the PAGB website.

The judges selected the following images as their personal choices and their joint choice as the best image in the Championship:
‍
‍Best PDI of the Championship:  "Vestrahorn at Sunrise" by Shirley Hollis of Shillington & District Camera Club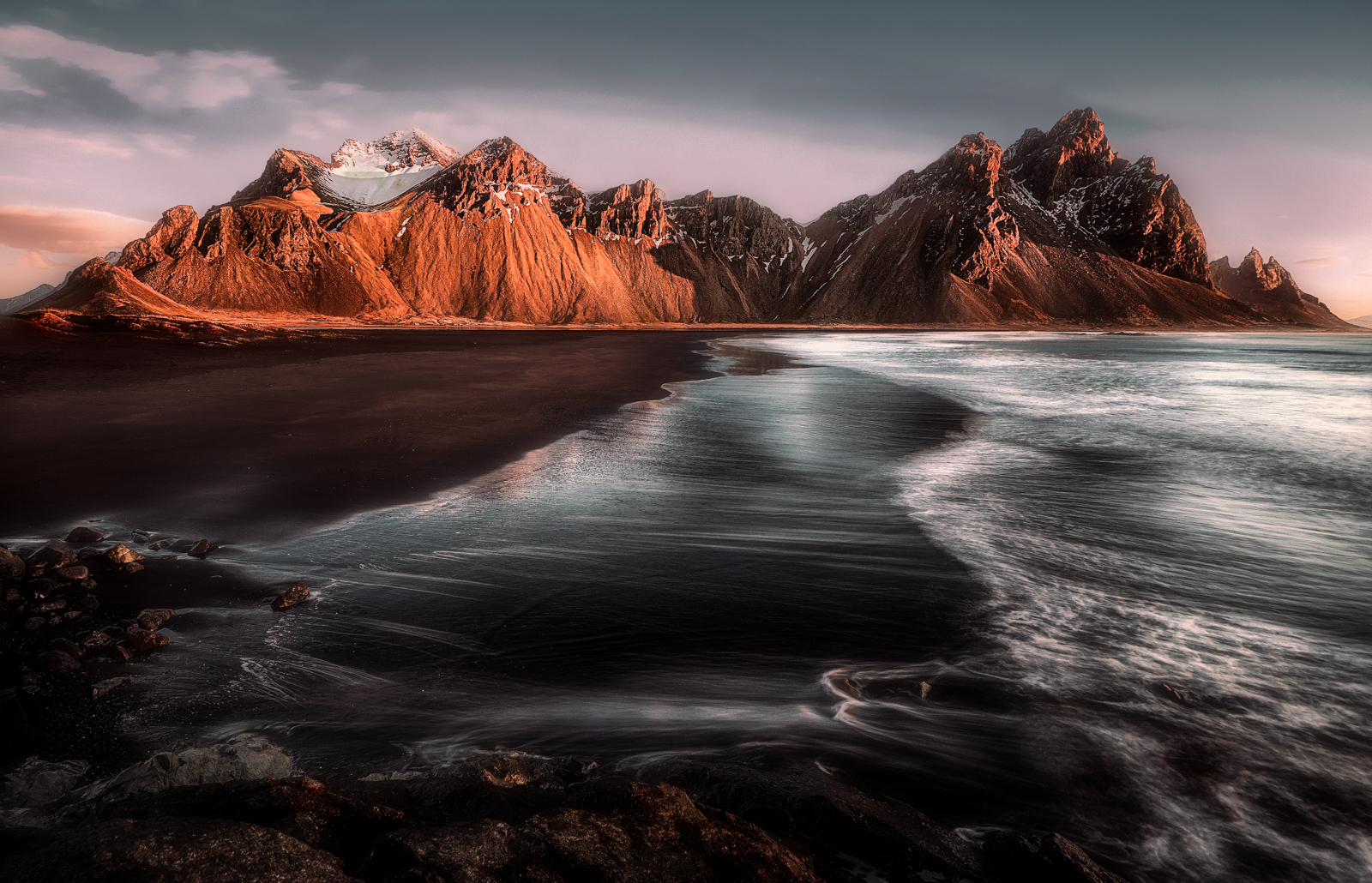 Personal selection of Peter Gennard MFIAP EFIAP/d2 :  "Febrrrrrrry" by Chris Aldred of Colchester Photographic Society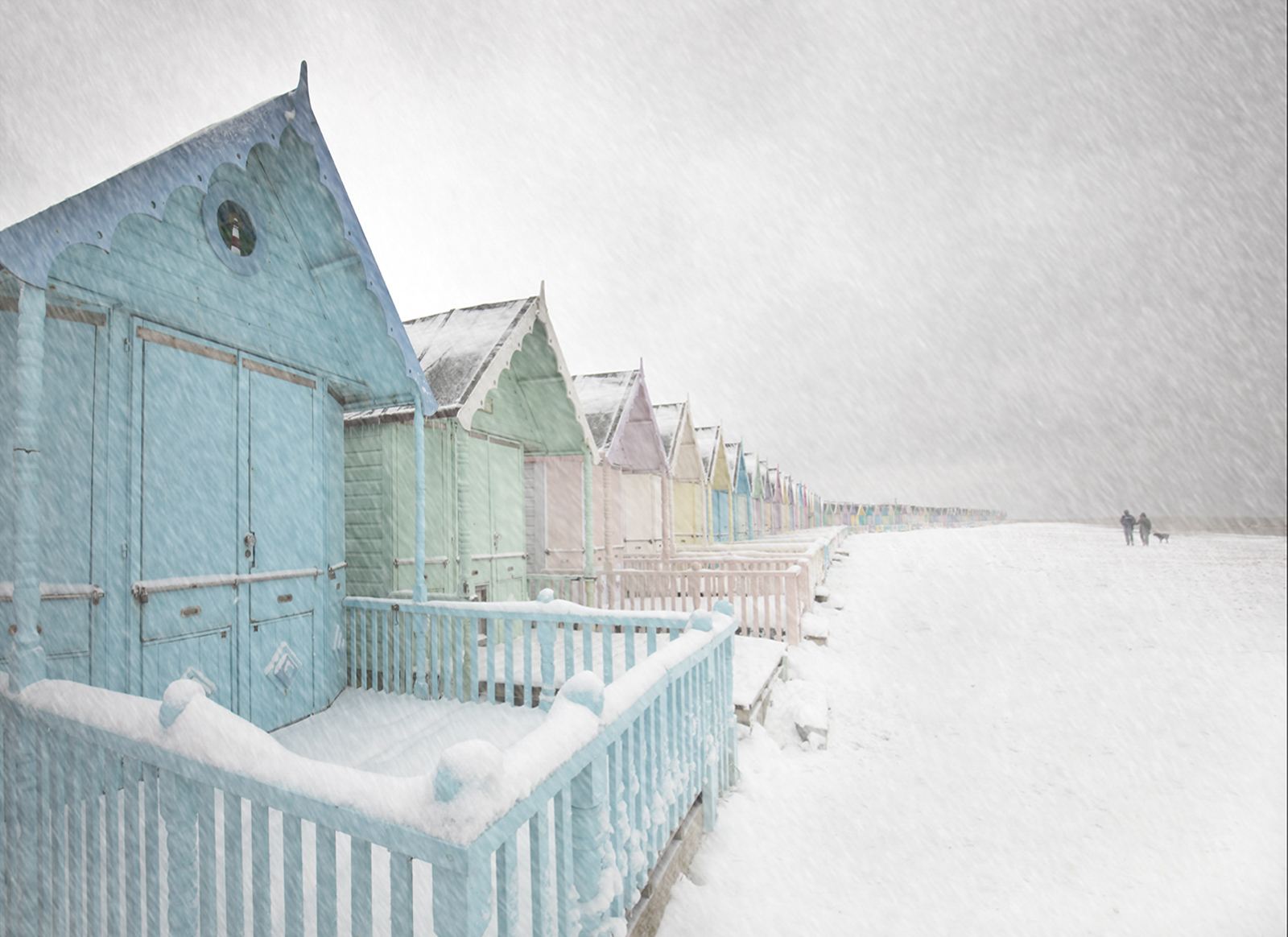 Personal selection of Peter Siviter DPAGB EFIAP:  "Back Street, Dhakar" by Colin Westgate of Colchester Photographic Society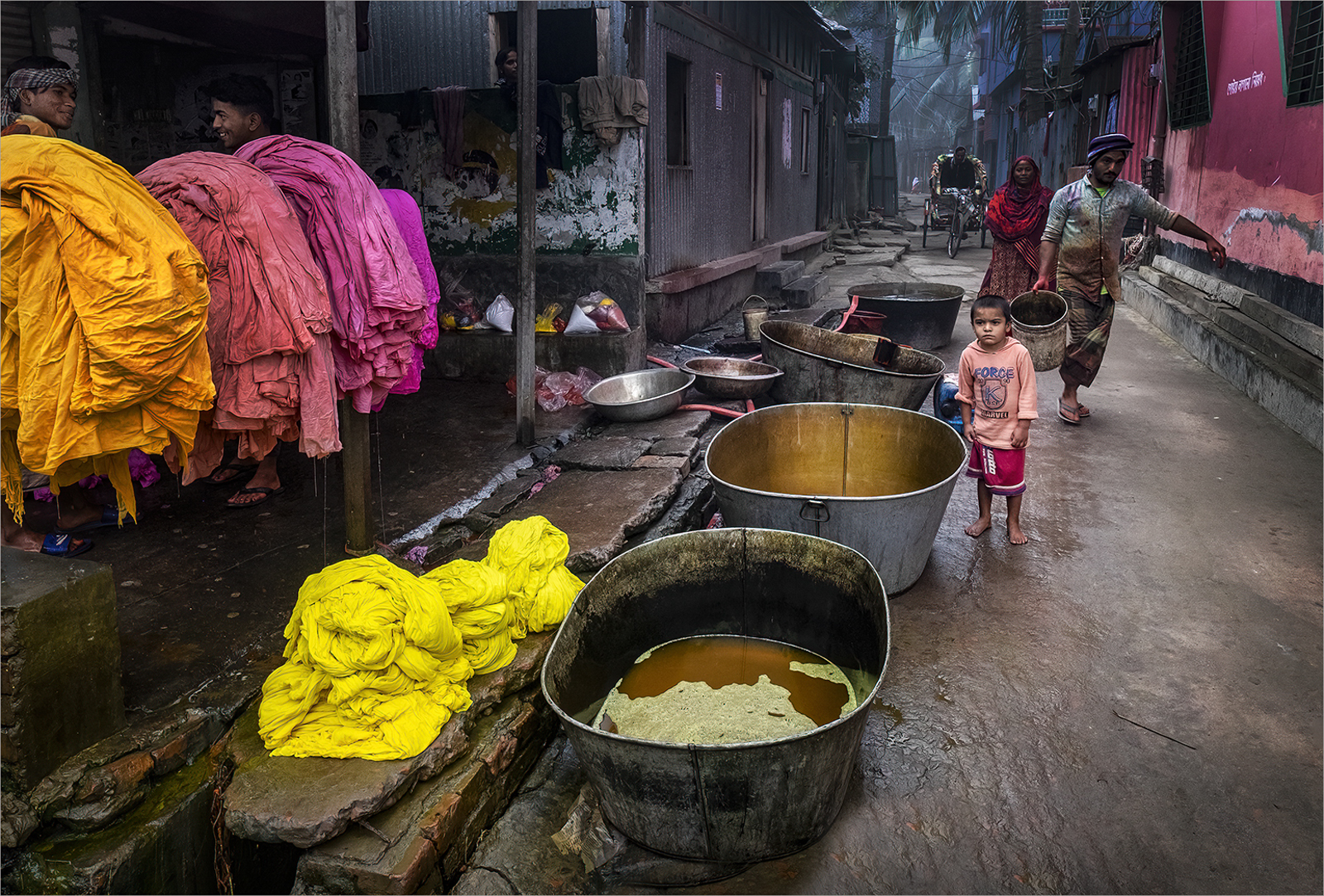 Personal selection of Ian Whiston DPAGB EFIAP/p EPSA FBPE:  "Incoming Marsh Harrier" by Paul Smith of Beyond Group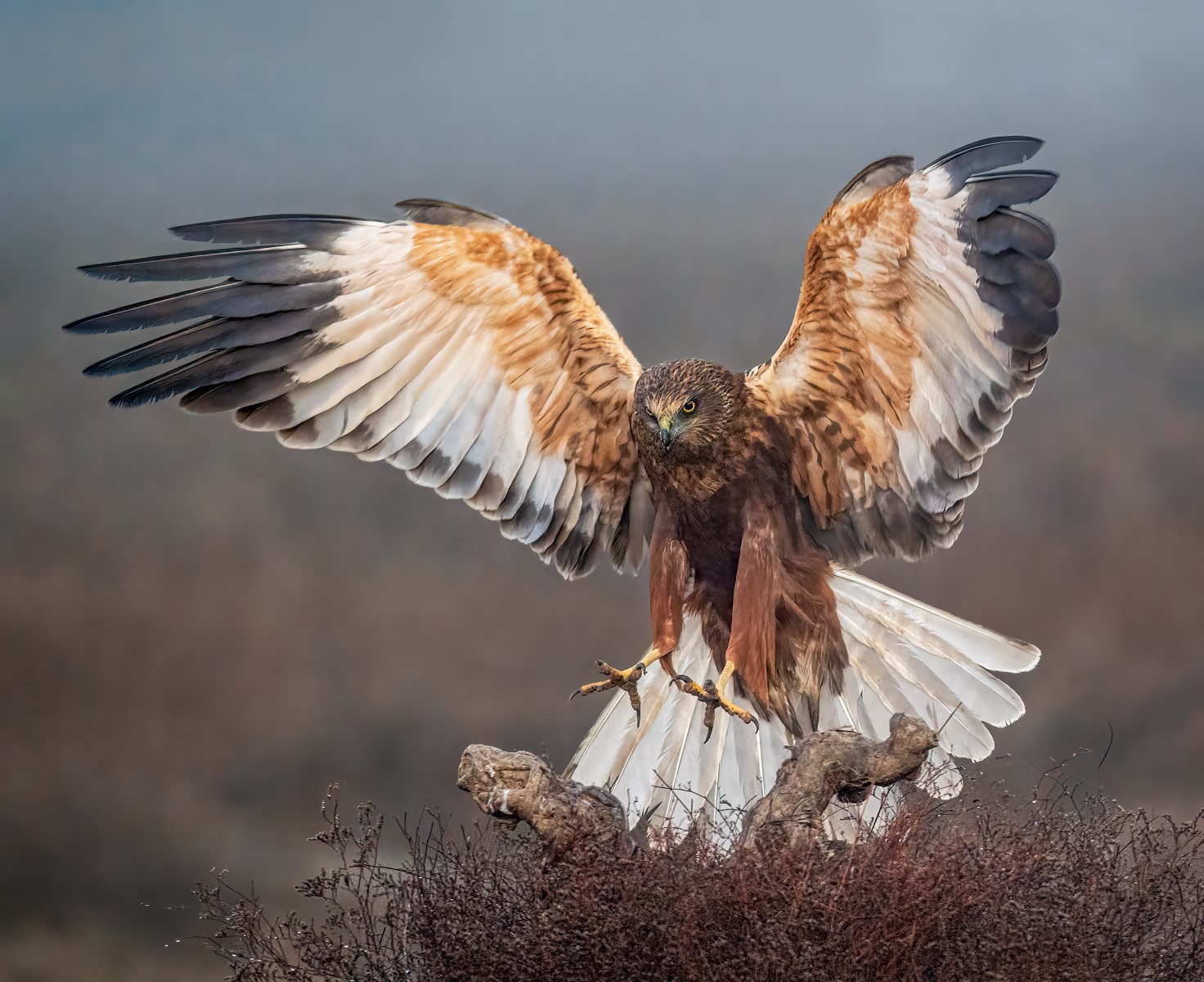 Click HERE for the full score sheet which is also available on the Downloadable Documents page
My thanks to everyone who helped to make the day possible - the clubs and their Competition Secretaries, the Executive, their spouses and other helpers and, of course the three judges,
Colin Birch
EAF Championship Secretary